Women's Day Special | An Interview with Runner and Entrepreneur Tina Muir
Mar 03, 2023 by oladance
Oladance strives to build a more diverse and inclusive community where everyone can tap their potential and meet their better selves. As we celebrate Women's Month, the Oladance team chatted with Tina about the insights she finds when running her business, the difficulties she encounters when writing her new book, and the suggestions she would like to give women runners who struggle to break their limits.
We are about to share a unique story of struggle and success. An athlete who represented her country in a world championship. A successful runner, a podcaster who amassed over 5 million downloads and voted for Best Fitness Podcast at the Sports Podcast Awards 2021. A mother and a wife.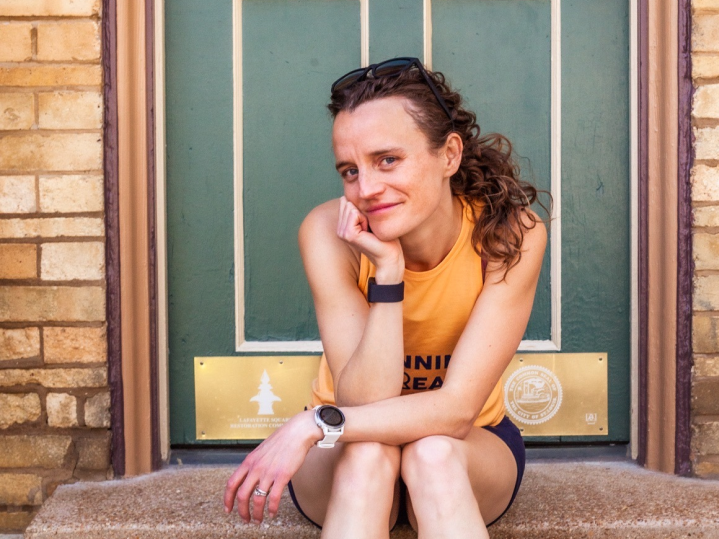 Oladance: Could you give us a quick intro about yourself and Running For Real?
Tina Muir: Hi! My name is Tina Muir, and I am the founder of Running For Real and host of the Running For Real podcast. I am a former professional runner for Great Britain and Northern Ireland, and currently am finishing up my book, Becoming A Sustainable Runner which comes out in August.
Oladance: What incentivizes you to start your podcast channel? And why choose podcast as the major channel to spread your views instead of YouTube or blog article?
Tina Muir: I was originally the host of a podcast for a coaching platform for runners, and I loved getting to know the guests and their stories, but I wanted to go deeper. I wanted to get to know my guests as humans first and runners second, and launching my own podcast, Running For Real, gave me the opportunity to do so. So much of what we consume in 2023 is short, and podcasts are one of the only mediums that allow us to really get to know a person, so I love getting to hear their stories beyond their race accomplishments or surface-level topics.
Oladance: You have interviewed many excellent runners on your channel, which episode do you think is the most impressive?
Tina Muir: Thank you! Malcolm Gladwell was one of my dream guests, so talking to him was the biggest win for me!
Oaldance: We noticed that you are writing a new book, could you please tell us a little bit about this new book?
Tina Muir: Yes! Becoming A Sustainable Runner is a book that looks at sustainability in all areas of our lives; how to be lifetime runners, how to be connected to our community, and how to be most connected to and supportive of our planet. We want to help runners find appreciation and meaning in their lives to bring together their love of running with their passion for health, community, and the environment.
Oaldance: What was the most unexpected challenge in writing this book. How did you manage to solve it?
Tina Muir: All the steps. I think in my head, you write a book, hand it in. Someone reads it and fixes all the mistakes you made, and makes it into a flowing, coherent book. In fact, you get the book back many times, with suggestions on how to change it, but they are things that require hours of concentration to fix. It is also hard when you have read it over and over to know if you are just being extra critical of yourself, or if you really do need to take out extra words and statements you have read before. It makes you question your sanity at times! How did I solve it? Just had to keep going through it! Thankfully, I had a coauthor to be able to talk to about it, and that was a big gift, as we could work through these challenges together.
Oaldance: As your business grows, you must also become a role model for a group of excellent female runners who want to start their own businesses in this field. As a woman entrepreneur who owns a successful business, what advice or suggestions would you give to this group of followers?
Tina Muir: To follow your heart and what feels right for you. There will be a lot of business people out there telling you to do things a certain way to "guarantee results", but if they don't feel like they are right for you, they won't work. Even if they are effective, even if everyone else is doing them, they will be short-term if you do not pay attention to what your heart is telling you. l would also say to minimize expectations of what it can be as much as possible, or at least put a time stamp on those goals and expectations. Starting a business is hard, and full of setbacks that we can never anticipate. If we go into our business thinking that everything is going to come together quickly, it will just lead to frustration and maybe even burnout. Trust the process and take in the lessons of the "failures" along the way. Finally, on the note of burnout make sure you save some self-care or rest time. We live in a hustle culture that tells us the harder we work, the more successful we will be. While that may be true at the start. we will never make it if we don't take care of ourselves as human beings while we do.
Oladance: What special difficulties do you think women will encounter on the way to becoming excellent runners? What can they do to overcome these difficulties?
Tina Muir: Most often research in our world has been completed on men, which means there is very little science out there to support a women's experience and how it is different to that of a man. Once again trust your body and what it is telling you. l find that it is better to skip a day of running or do an easy run instead of something hard if your body doesn't feel good, over pushing through just to check a box. I would also say that your period is not something to be frustrated with, but something to work with to reach a high level. While we might think the first day of our period as a nuisance, it is actually the day we are most fierce and therefore able to potentially reach our best. Work with your body not against it.
Oladance: What role does music or podcasts play in your runs? Do you think listening to podcasts or music will make your runs more enjoyable and less stressful?
Tina Muir: I do listen to music and podcasts on some of my runs, depending on my mood. If I am feeling good, I will generally listen to one of my favorite podcasts to learn something new and reflect upon my life. But if I am not feeling great or struggling to get out the door, I listen to music to pick me up. I think there is a place for running with music and podcasts, and yes, they do make it more enjoyable, but I do also believe it is important to sometimes not listen to anything, to be able to connect with our body and mind, especially on hard runs.
Oladance: Do you have a music playlist or list of podcasts to play while you run? Would you mind sharing your playlists with our readers?
Tina Muir: I like to listen to 90's and early 2000s songs if I am looking for some upbeat music to run to. For podcasts, I love Meghan Markle's podcast, Archetypes and Brene Brown's podcast, Unlocking Us.
Oladance: How did you start your career as a runner? What motivated you to start an academy and coach others to run marathons?
Tina Muir: I began running as a teenager through my school in the UK and moved up the rankings until I was one of the top runners in the UK. I came to the US on a scholarship to go to University, and have been here ever since. During the 20 years I have been running, I have learned a lot, and with the very real and authentic way I share my journey, runners wanted me to teach them what I knew. I created the mental training course as that was the element of running that most runners struggle with, and then the training plans were a completely different approach to running. There are no paces, but it teaches runners to listen to their bodies and run what feels right to them.
Oladance: How do you like the Oladance open earbuds?
Tina Muir: I really enjoy the quality of sound for all activities. I can go from running to walking to dancing to doing chores without changing anything, and that is something I have never really been able to do before. I love the way they sit on the outside of my ears, so I can run with them and still hear outside noises, but also hear my music clearly.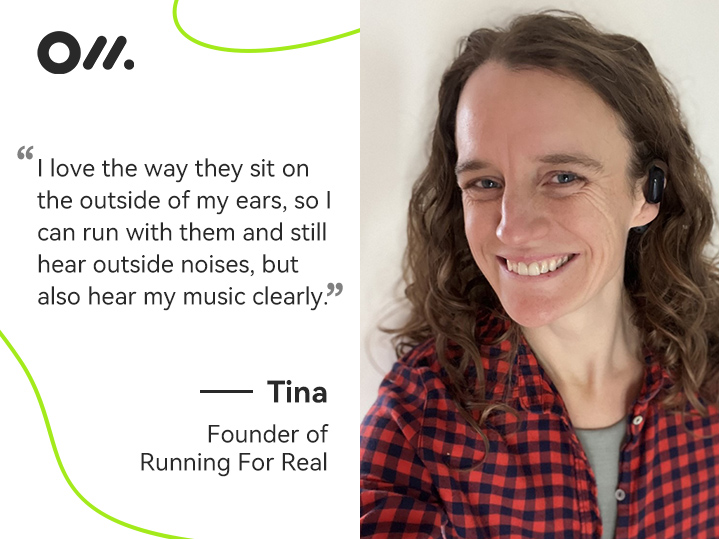 Oladance: What advice do you have for runners who are just starting their running career?
Tina Muir: Remember it is your journey. While the social media world makes it look like everyone else is finding this easy and you are the only one struggling, we ALL struggle. We all have hard days and days where it feels like we just cant do it. That is part of the runner experience, and the more you can focus on just doing the best you can for the day (and that means sometimes being the best at running as slow as you need to go), the more enjoyable your journey will be.